I had not been to the Central and Northern parts of Kenya until a few weeks ago when I decided to do something about it. Got one more person who was as enthusiastic as I was and we embarked on a road trip to Isiolo.
We were both coming from from Kilifi so going to Isiolo and back meant covering around 2200 KMs including the not so numerous missed turns and discovering that we're lost after going for 5KMs. Half of that distance was from Kilifi to Nairobi but forget about that...it is not the interesting part of this story.
We got a SUV rental from Nairobi - seemed like a practical choice (and it was, in retrospect) since we were not sure of the nature of the roads and terrain that lied ahead. The plan was to depart at 6.00 am on Monday the 18th but that never happened because of last minute car fixes. We ended up leaving Nairobi at about 11.00 am, a bit irritated because of the long wait but also glad to get out of the city eventually. Two feelings at once. Irritated and glad :)
We got lost really fast - missed the 3rd Exit onto Murang'a Road at the Globe roundabout 2 minutes into the Journey. Anyway, we found our way back to the Thika super highway, made a quick stop at the Thika Road Mall to pick a few supplies and we were on our way again. We were behind schedule and decided not to make any other 'unwarranted' stops. We got to Naromoru at around 2:30 pm, made a detour and headed towards Mt. Kenya National Park. The road had fresh tarmac and we kept going for almost 20 kilometers, soaking in the countryside. I was hoping to see Mt. Kenya from this side but the day was overcast and I had to keep my hopes and dreams to myself. Still loved the view though. 
Sights along the detour we took in Naromoru.  Mount Kenya Peak is hidden somewhere behind the thick clouds behind the hills
The detour ended and we got back on track. Our next stop was going to be Nanyuki, for a proper late-lunch. Nanyuki looks like that town that has people with lots of money who spend all their days in massive ranches doing what very rich people do. 
Lunch was in a restaurant called Painted Dog. The manager was very friendly and funny even - first question he asked me was if I was related to John Kiriamiti because of the way I parked, I have never been so proud. The food (fish, potato wedges, chicken soup and masala chips) was very good and fairly priced. It took almost 2 hours to get ready but it was worth the wait. Do not hold your breath for a flat lay of the food, we had more pressing concerns.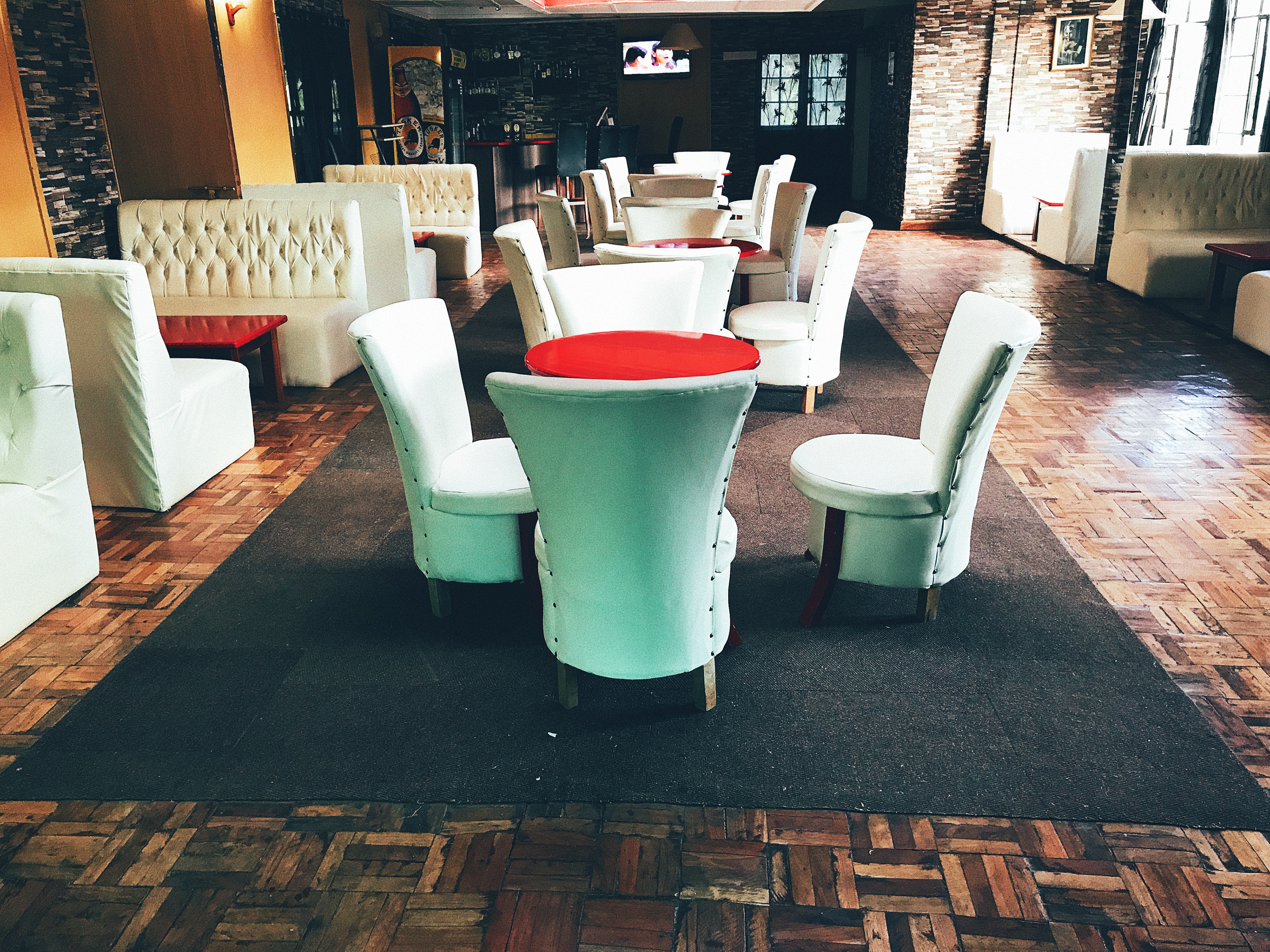 Painted Dog Restaurant - Nanyuki
We were losing daylight fast so lunch (the actual eating) had to be fast too.The drive from Nanyuki to Isiolo (80 kms) is quite the descent and our ears kept blocking the whole way - high rate of descent, pressure difference in cabin vs. outside...blah blah blah. 
We arrived in Isiolo at around 9 pm and therefore didn't get to really see the town but it looked busy, it was still buzzing even at that hour. We had gotten an AirBnB in Isiolo a couple of days before travelling. Massive house for 3 nights at a ridiculously low rate. We were pretty exhausted, we ate and hit the sack. 

We woke up late, at around 10am. Daytime temperatures in Isiolo are similar to what we get in Kilifi if not cooler.  But on this day the clouds were hanging low and looked like it would rain any minute. There was no time to make breakfast and we had to find a restaurant within town, eat fast and hit the road. We had snacks in the car...just in case the breakfast didn't hold up. It actually did rain heavily for a few minutes while we had breakfast. 
Our destination was the Ngare Ndare Forest conservancy, 51 Kms before you get to Isiolo off the A2. This means we had to go back the same way we came the previous day, which was great because we got to see the countryside (between Nanyuki and Isiolo) during the day - we passed this section at night the previous day. Loved it! 
We made a lot of stops from Isiolo as we headed towards the Isiolo-Meru junction. 'A few' pictures were taken here and there along the way in the midst of marveling at how beautiful and fertile the area is with huge tracks land with wheat and greenhouses in Timau area where Ngare Ndare Conservancy is located.  
There is so much to say about the Ngare Ndare Conservancy. I will mention two things only that stood out for me. Visit their
website
for more information. 
The Conservancy has got three or more entries/exits. The first entry we picked had huge boulders and puddles, it was Rhino Charge for a few minutes before we decided to turn back and look for an alternative route. The locals helped a lot with directions, at one point we met a young chap from Meru who had us dying of laughter with his excellent 'direction-giving-skills'. We drove close to 7kms to get to what looked like the rear entrance into the conservancy, we then drove some more for about 25 kilometers to get to the waterfalls and the Canopy. On our way we made a stop at the Ngare Ndare market (not sure if that was the name), had a tete-a-tete with a  real Jaduong' then got back on the road. The road from the market to the forest is extremely rough with mini craters everywhere, but word on the ground (pun intended) is that the little tarmac remaining is from the colonial era and that the road is intentionally left in that state to deter loggers and poachers - bad roads ensure they can't drive away fast.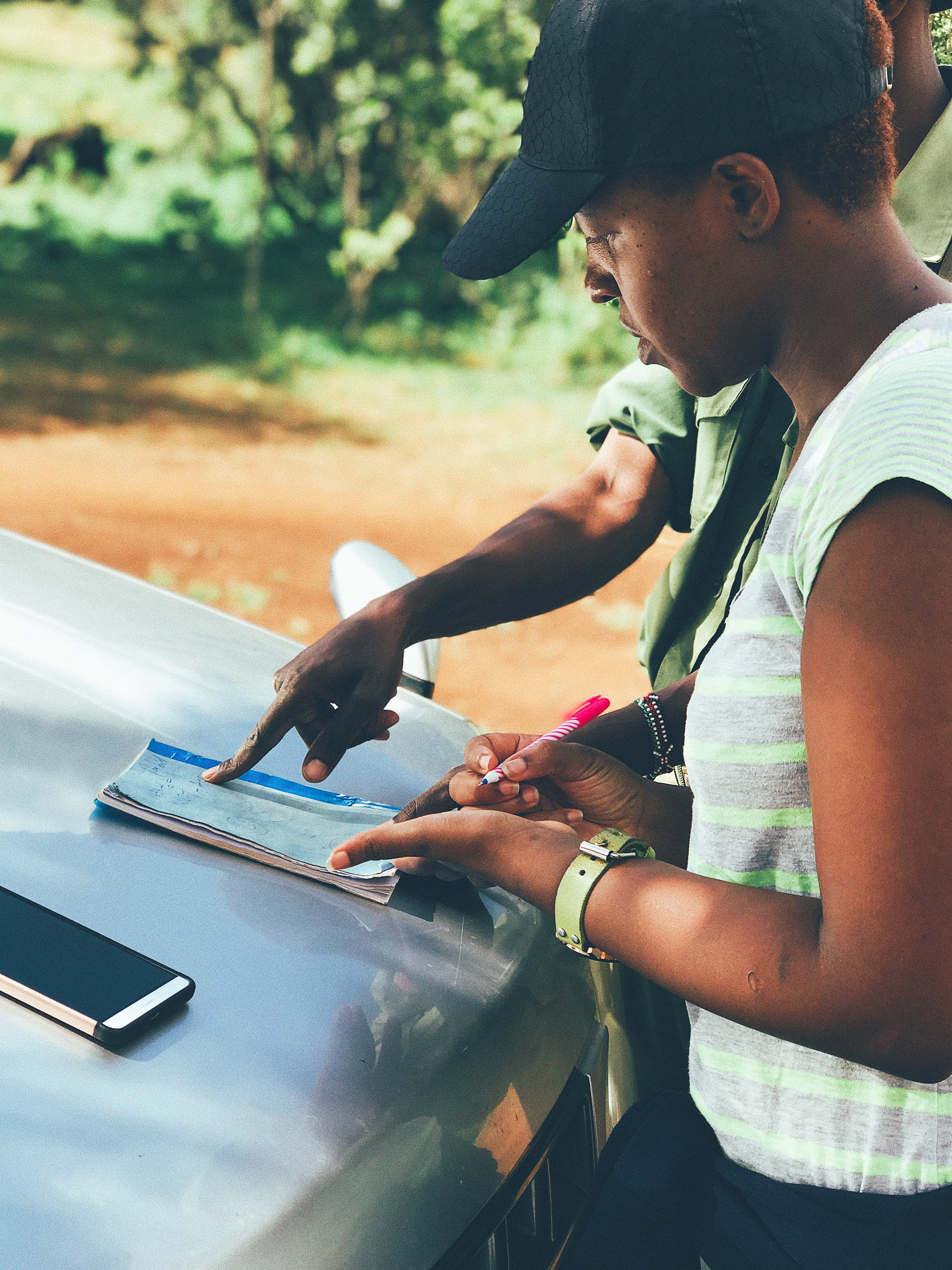 Good road - mini rhino charge - directions 
Ngare Ndare river going through the market; other mini-stops 
If you are lover of nature trailing you will love love love what Ngare Ndare offers - in the company of armed guards otherwise you are advised to do a drive. It is still a jungle and you are food or a nuisance to the game.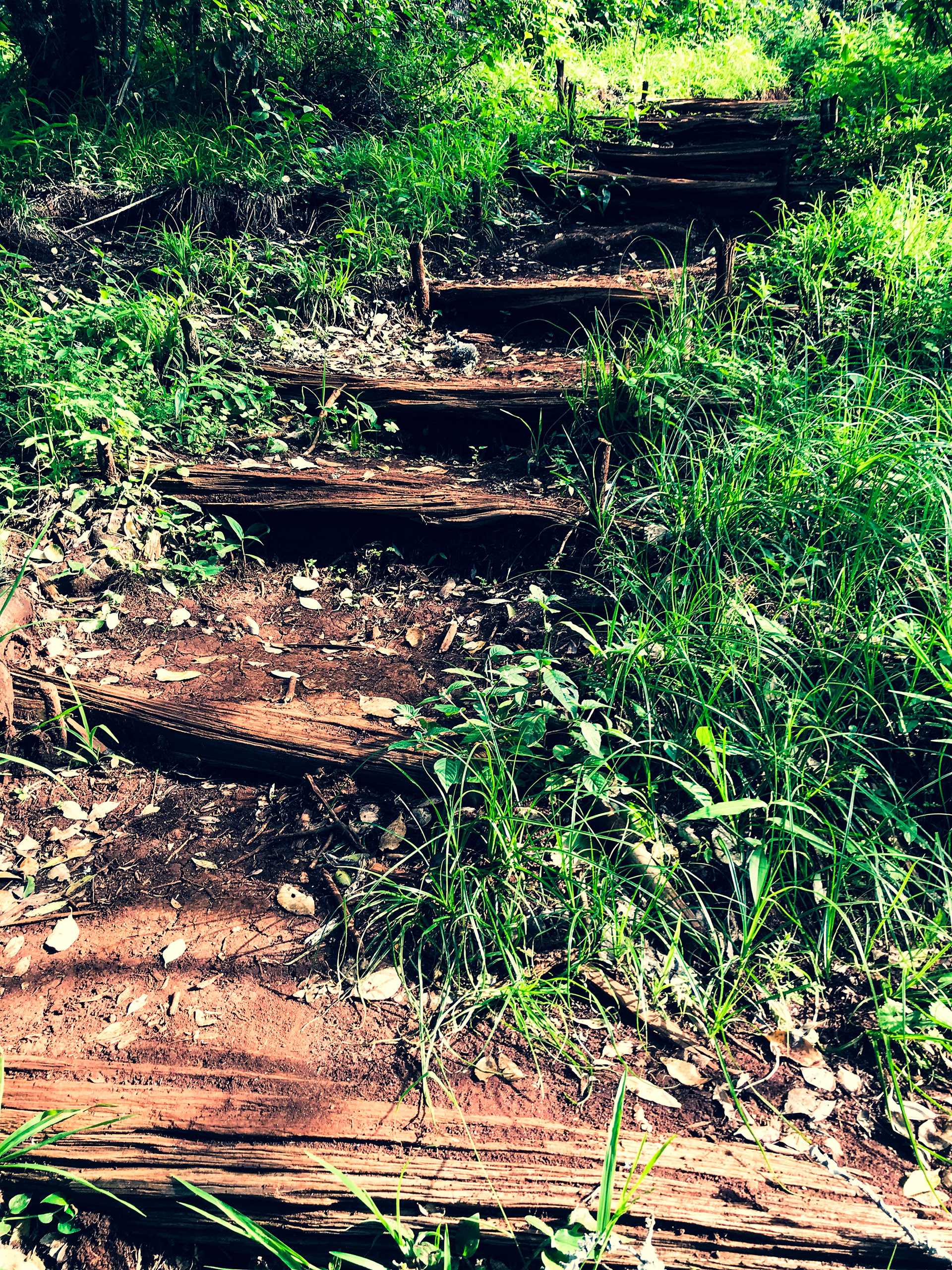 You can never claim to have been to Ngare Ndare if you have not walked this walk. Natural bliss. The walk way is 40 feet high and 450 meters long with a wooden platform on one end for picnics and chill, and if you have good timing elephants and buffaloes will be passing right beneath you in the swamp to drink water from the stream. Enough said. 
The waterfall can only be accessed on foot. We got off the car, guide in tow, got my camera and tripod only to later realize that I had left the flash base and I now had to improvise. The waterfall was not too far off so we got there pretty fast. The waterfall made my day. Check out the long exposure shot I got
here
. Enough said.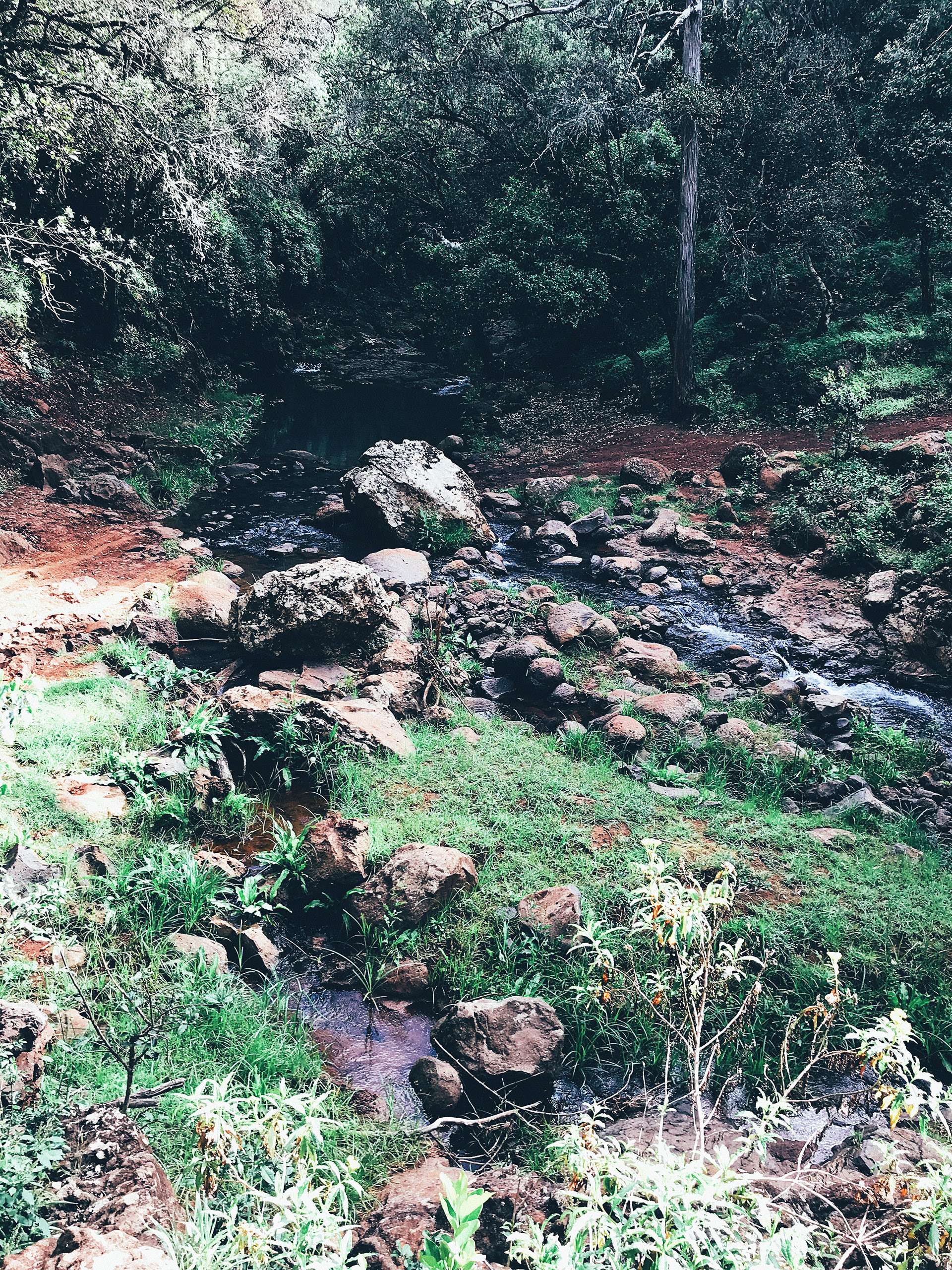 There is no way I was going to leave Isiolo without getting a view of the sunrise, this meant getting up early and being on location before 6 am. That is exactly what we did. It is quite calm in the morning, no engine sounds, just silence and periodic bird sounds. We got a good vantage point not too far (about 5 kilometers) from the AirBnB, somewhere along the Isiolo - Modogashe road. The next 30 minutes was about compose, expose, shoot - repeat.
I will take a second to talk about the road from Isiolo to Mandera. This is where you test the limits of any super bike or car. Well laid tarmac and you can go for 30 kilometers or more without the 'interruption' of another on-coming vehicle, speed bump or even a pedestrian or animals crossing. It is stuff that would make an awesome Grand Tour episode. That road has opened up the northern frontier to the rest of the country, Africa even. It is perfect. Enough said.
Mt. Ololokwe (Ol Donyo Sabache)
You can see Mt. Ololokwe from Isiolo on a day when the skies are clear. We could actually see a hint of it through the thin sheet clouds while we were still in Isiolo. But there's no better view than seeing it rising above the Samburu plains from about 5 kilometers. I think timing is also important and you get the best view before the harsh daylight sets in which is any time before 8:30 am. Could be me but I think we have our own El-Capitan that we opted to call Ololokwe. We made a stop on the tarmac right beside the mountain for a quick snack break. The engine was off - I have never experienced such outdoor silence. I took too many pictures than I knew what to do with.

We weren't going to spend too much time here so we usurped all the goodness Mt.Ololokwe and its environs had to offer and headed back towards Isiolo. We got into a cafe by the road side at Archer's Post at about 9:30 am for breakfast and ended up engaging the waitress in a math (calculus to her) discussion with the waitress who had a hard time understanding how 120+100 added up to 220/-  and not 320/- , but we eventually convinced her and settled our bill. We then left for our next destination - 137 kilometers away.
I will remember this place for three things. The chimps, Baraka (Rhino ambassador) and the only remaining male northern white rhino - Sudan. 
I learnt a lot about chimpanzees, this coming from someone who knew almost nothing about these apes (are they apes?) prior to this visit. The conservancy is quite expansive covering an area of 90,000 acres and it took sometime to get to the Sweetwaters Chimpanzee Sanctuary - where I had my chimp crash course. 
The only natural habitat for chimpanzees is the equatorial rain forest which we do not have, hence the sanctuary.  It is a home to two families of rescued chimpanzees from a number of countries in and out of Africa including Iraq. Some have have been rescued from airports on transit and some others from private homes kept as pets and grossly mistreated. Chimps are fiercely territorial which is why the two families (with 15 and 20 members) have to live separately. The separation is made possible by an electrical fence on one side and the Ewaso Nyiro river on the other side. 
We were introduced to Oscar (a chimp) born in 1997 inside the conservancy and now has a cataract in his left eye. He was the guy to beat until he was recently dethroned by another guy called Uruhara - scary dude. 
Something else that blew my mind about chimps is that if the perimeter fence was not electric they could make a ladder and climb over. They can make tools. Think about that and also think about War for the Planet of the Apes - the movie. 
Two things you probably didn't know - we share 98.6 of our genetic DNA with chimpanzees; one chimp has the physical strength of 4 men of the same age. Bushmeat trade and deforestation is a real threat to remaining Chimps worldwide.
Chimp on the left is Oscar. Uruhara's mug shot is the bottom right one on the collage
We never got to see Sudan because advance booking is required,  and he can only be visited twice a day, morning and in the evening. We were also told he is unwell. In his stead we met Baraka the black rhino, born and bred in the wild in Ol Pejeta. Baraka is blind after losing one eye in a fight and has a cataract in the other. He is the official Rhino ambassador and now lives in a 100-acre enclosure.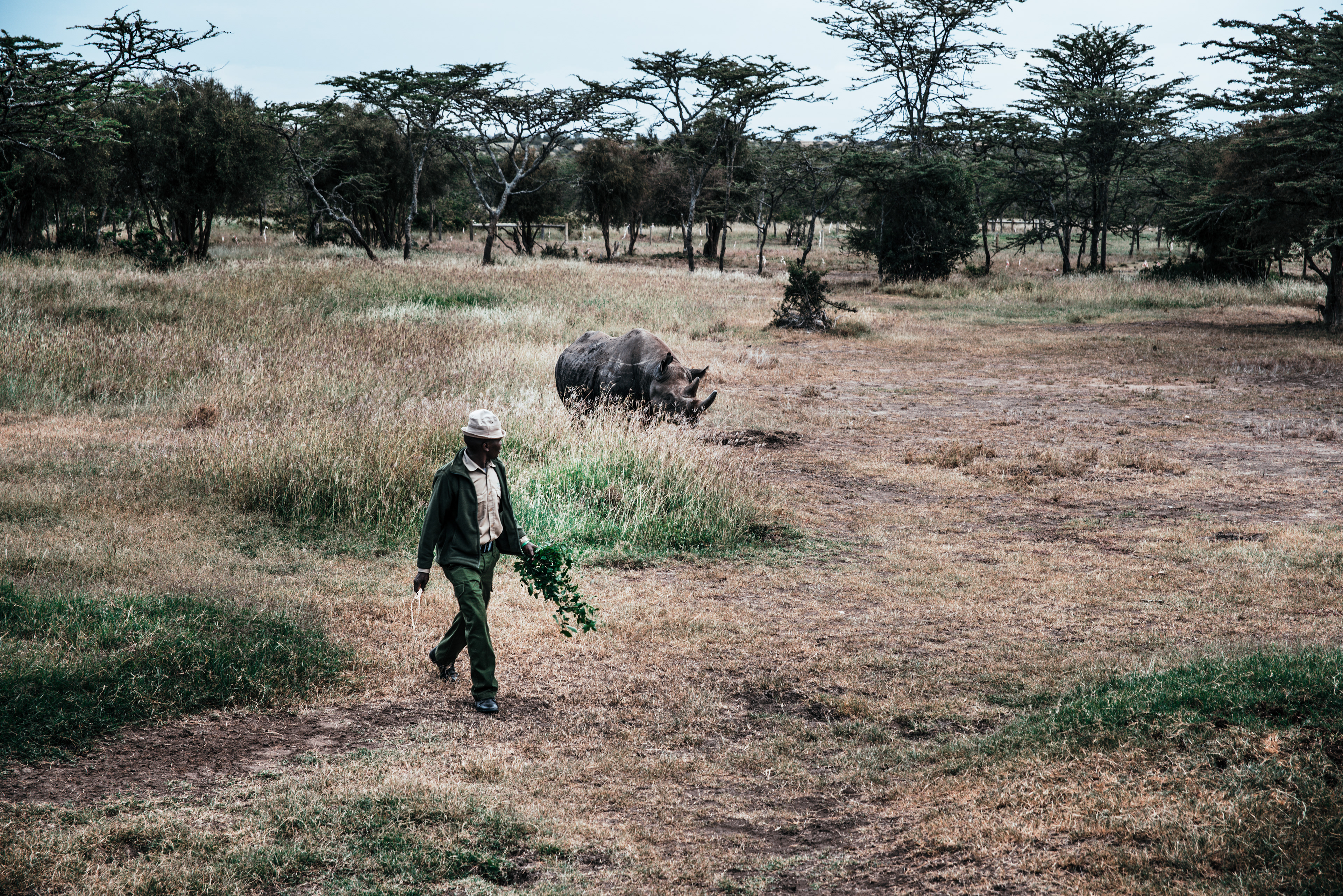 We got lost for about 5 kilometers in the conservancy while looking for the exit gate. We were back in Isiolo at around 8.00 pm. 
I found the park fees/entrance fees to be bit higher than I expected but then I got to know how expensive it is to run a conservancy. It costs about KES 400,000 a year to take care of one chimp in the Sweetwaters Chimpanzee sanctuary. See how?

It is not like we were going to stay in Isiolo forever. We left Isiolo for Nairobi at around 9.00 am, after some thorough not-so-quick breakfast. For the return trip we were to go through  Meru and Embu - different route from the one we used from Nairobi. We were a little fatigued from the previous 3 days and so the plan for this last day on the road was to do modest speeds to Nairobi. That meant no 'unplanned' stops plus we had a night bus to catch back to Kilifi - translation, we needed to be in Nairobi in good time. The only stop we made was at the Meru museum, to have a peek at what they've got. I won't say much but I think they can do better. 
One thing that should concern every driver on this route is the winding road and the dreaded Nithi bridge. That curved descent/ascent has claimed a lot of lives - no harm in being extra careful. Slow Down.
Those who know also say, the journey itself is the destination. I had high expectations before we set off and truth is I was satisfied with what we got. 
Some more pictures - feast your eyes!
These made it to the story for no reason at all.
This road-trip was powered by 'bad' food. 
LEFT: Chimp being clever, using twig on electric fence. RIGHT: Baraka in his full glory